Practices

Global
Engagement
Global B2B companies need to engage with executives, professionals and market influencers around the world in order to understand changing needs and requirements, shape market perceptions, build brand relevance, and fill new business pipelines. Finding the right partners with ready access to these audiences and the ability to harvest and influence their thinking is paramount to getting the job done right.
GlobalFluency is that partner. We have developed trusted and highly influential affinity networks of access, insight and influence that reach and engage business decision makers and influencers around the world. These global peer-driven, thought leadership networks, like the CMO Council, Business Performance Innovation (BPI) Network, and Customer Experience Board, are able to gather deep insights, drive intimate interactions, and produce compelling content on a truly global scale.
Our networks help leading and emerging brands reach across the globe to validate important market agendas, highlight strategic issues, explore emerging trends, and generate business demand and leads. We inspire new thinking, innovative practices, and adoption of new technologies and solutions for transformation and performance improvement in enterprises across North America, EMEA, Asia, and South America.
The CMO Council has a highly influential membership of more than 15,000 marketing leaders in 110 countries who control an aggregated marketing spend of more than $500 billion. The Council's audience also includes tens of thousands of other executives globally who consume our content, participate in our events, and provide their insights and opinions. The BPI Network reaches some 50,000 executive change agents around the world who drive transformation and innovation within their organizations. These change leaders include executives running global IT, finance, strategy, product development, supply chain operations and business units within their enterprises.
Every year, our global networks develop dozens of thought leadership campaigns for sponsoring organizations such as SAP, Oracle, Microsoft, IBM, Dimension Data, Deloitte, PwC, Huawei, Adobe, Avaya, Marketo, Adaptive Insights, Navis, Foxit Software, and many others.
These research-based programs integrate surveys, polls and insightful interviews with executives and experts at top global companies. We conduct dozens of dinner dialogues, roundtables and conferences with executives in cities worldwide. These integrated programs generate tens of thousands of content downloads, thousands of media stories, and numerous speaking appearances that drive high levels of global engagement for brands. They provide the foundation for strategic selling and more successful sales meetings.
Global market engagement is the lifeblood of business and brand development. GlobalFluency has developed the right channels, methodologies, and skill sets to help you achieve a true global marketing advantage.
required reading
featured download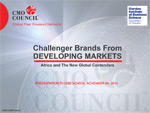 Challenger Brands from Developing Markets: Africa and The New Global Contenders Speaking to the Gordon Institute of Business Science, Donovan Neale-May focused on what has created success for some of the 1,000 companies with revenues of over $1 billion that are now based in developing economies.
Download »