Practices
Authority
Leadership
Marketers increasingly recognize that they must become thought leaders, knowledge brokers and insightful publishers to build rapport with target audiences and create strategic conversations with decision makers and influencers. At the core of this requirement is the need for a solid, validated authority leadership platform on which a brand can stand and differentiate itself above the messaging din that is being increasingly ignored by your most sought after prospects.
GlobalFluency has pioneered the development of authority leadership marketing, having formed and multiplied many executive affinity networks to help substantiate and validate key platforms and critical conversations for clients.
Why did Symantec fund a study on the impact of customer data breaches on brand trust and reputation? What made SGI and Intel embrace an IT sustainability agenda called Think Ecological?
These are just a few examples of successful authority leadership marketing initiatives at work as companies seek to connect and engage with their markets using more relevant customer-centric content delivered in new digital formats and channels. What so many brands are looking for is an opportunity for direct market engagement to reach, aggregate and segment customer audiences while bypassing traditional avenues.
To achieve this goal, GlobalFluency proposes a truly customer-centric approach—one that aggregates the issues, pain points, challenges and requirements of the customer and the market and develops an independent authority leadership platform that enables an organization to approach multiple stakeholders through powerful channels of insight, access and influence.
In most cases, authority leadership (and the intellectual capital it aggregates and generates) comes from effective market engagement, real-time customer feedback and listening, primary research, media analytics, and regular monitoring and mining of conversations and discussions in online communities, affinity groups, forums, blogs, newsgroups and bulletin boards. Few have been able to master the development of the authority leadership platform while advancing it into a comprehensive intelligent market engagement.
That's where we come in.
At GlobalFluency, we excel at pulling off the impossible. For more than a decade, the CMO Council has been a leading example of gathering a community of like-minded executives to help shape, influence and advocate for issues and platforms that advance the role of marketing and the influence of the chief marketing officer. Operated and developed exclusively by GlobalFluency, the CMO Council has become a global leader of authority leadership in marketing, advancing the agenda of the data-driven, business-minded marketer.
No matter if you are looking to influence your customer and prospect base or if you are looking to create a new community of peers, influencers or game-changers, GlobalFluency has a proven track record of developing communities and audiences built on authority.
required reading
featured download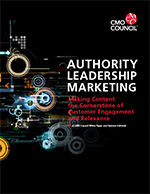 Making Content the Cornerstone of Customer Engagement Customer-centric content and authority leadership are critical to building brand trust, accelerating lead acquisition and shortening selling cycles.
Download »